International BioMECs Symposium 2022 (IBS 2022)
GET THE OPPORTUNITY TO PUBLISH YOUR RESEARCH FINDINGS IN SCOPUS INDEXED JOURNALS!!
GREETINGS TO POSTGRADUATE & UNDERGRADUATE STUDENTS!
SIG BioMECs in collaboration with CGS UiTM Cawangan Negeri Sembilan proudly present:
1st International BioMECs Symposium  2022 (1st IBS)
Theme: "Exploring The Recent Advancements in Biotechnology, Microbiology and Environment For Future Challenges"
Call for participants!
1) Special Mini Postgraduate Symposium.
– Oral presentation by postgraduate student
2) Special Pitching Project.
– Poster presentation by undergraduate student
Registration link
https://tinyurl.com/REGISTRATION-1STIBS2022
Come Join Us!
Get your e-certificate and chances to grab the Best Presenter Award!
Selected papers will be published in SCOPUS indexed journals (for Special Mini Postgraduate Symposium only).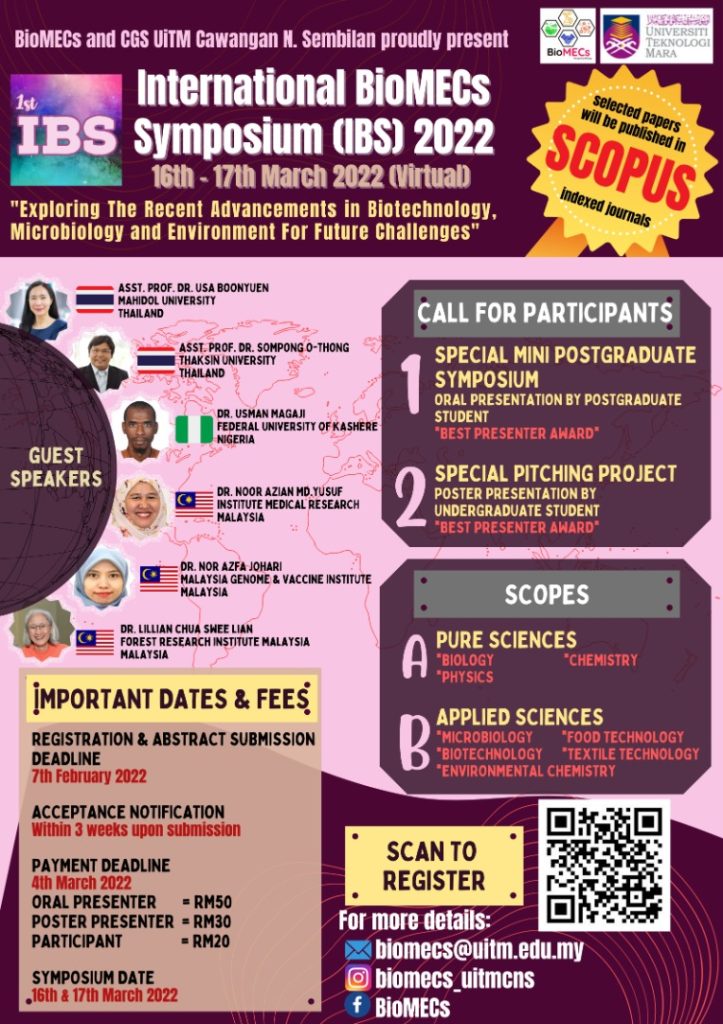 Workshop: Basic Phylogenetics And Bioinformatics Methods
Are you a postgraduate student, lecturer, researcher or lab personnel looking for a workshop to find out about phylogenetics and bioinformatics analysis? Well, look no further!
BioMECs is proud to present to you our first SIG WORKSHOP SERIES, which combines lectures and tutorials to provide participants a fundamental knowledge on phylogenetics and bioinformatics methods.
Speaker: Dr Dzarifah Zulperi (Senior Lecturer, Faculty of Agriculture, UPM)
Date: 11th November 2021 (Thursday)
Time: 10.00 am – 1.00 pm
Platform: Google Meet (link will be provided later)
Entry fee: RM50 (Staff) / RM45 (Students)
Organized by: BioMECs, UiTM Cawangan Negeri Sembilan
To register, please scan the QR code.
Deadline for registration & payment of fees: 1st November 2021 (Monday)
For more information, please contact:
En. Mohd Zaini Nawahwi (+6017-6737680)Please come and join us!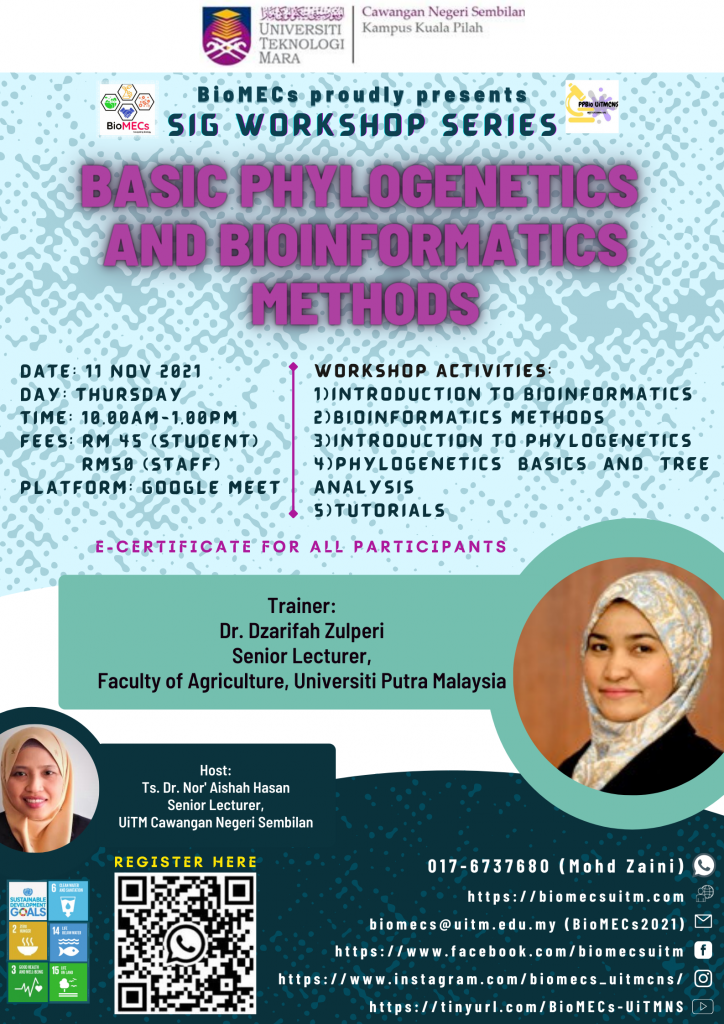 Webinar: Beginner's guide to CRISPR-Cas9 (June,2021)
Ever wanted to find out about CRISPR-Cas9, and learn its use in the genetic study?
Now you can!
Join us at our free webinar hosted by BioMECs, in collaboration with Genetics Society of Malaysia (PGM), with the enthusiastic speakers:
1) Dr. Amirul Adli Abd Aziz (UiTM)
2) Dr. Muhammad Asyraf Md Hatta (UPM)